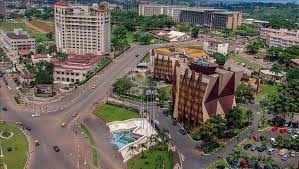 Management: Cameroon
Loxly Massango Epie
Senior Vice President, Finance and Office Operations
Mr. Epie is a native Cameroonian with several decades of experience in international auditing, financial reporting, and consulting, with senior management experience in non-profits and international banks. Mr. Epie received his BS and Masters in the UK and received a Doctorate in the United States. As SVP of Finance and Office Operations, he manages the Accounting Department, Administration Department, and the Human Resources Department as well as be the main link to Herakles Farms accounting and finance operations in New York.
Sarjit Singh
Cameroon Oil Palm Manager
Mr. Singh has over 34 years of experience in oil palm, rubber and other tropical crops. Mr. Singh worked for Sime Darby in Malaysia in various senior management positions. At Herakles Farms, he is responsible for strategic agronomy practices and their implementation, and he oversees the plantation design to ensure efficient land use. Mr. Singh holds a B.S. in Agronomy Science from Punjab University (India).
Milton Morris
Oil Palm Manager
Mr. Morris has over 29 years of experience in the agriculture sector, and over 20 years of experience in oil palm plantation management. At Herakles Farms, he focuses on overall planning and operations for planting, growth, care, and harvesting within the nursery and field. Prior to his work with Herakles Farms, Mr. Morris oversaw key aspects of land clearing, nursery development, planting, replanting and maintenance for United Plantations, one of the top performing and best managed plantations globally. Following United Plantations, Mr. Morris has served in management roles for companies including Riau Andalan Pulp & Paper, Kembayan Subur Agro and Pt. Antar Sejatera Bersama. He has diplomas from the Incorporated Society of Planters, where he studied botany, soils, management, agricultural engineering, general estate practices, as well as financial management and surveying.
Emmanuel Bamu
Agricultural Manager
Mr. Bamu has over 40 years of experience in oil palm plantations, beginning his career with Pamol in 1970. At Pamol, he worked both in Cameroon and Nigeria in various positions, including Divisional Manager, Estate Manager, Training Officer and Personnel/Administrative Manager. At Herakles Farms, Mr. Bamu currently oversees all aspects of nursery operations.
Joseph Mahop
Cameroon Human Resources Manager
Mr. Mahop is a native Cameroonian and the Human Resources Manager for Herakles Farms. He has over 20 years of experience in Human Resources including recruitment and retention, conflict resolution, change management, labor relations and benefits administration. Most recently, Mr. Mahop worked with H.E.L.P, a non-profit based in Texas, as the Human Resources Director for 12 years. Prior to his work with H.E.L.P, Mr. Mahop worked with Eciercam Limbe for nearly seven years as the Operations and Human Resource Manager, where he developed and implemented a series of innovative HR programs. He graduated with a bachelor's degree in Business Administration at the Northwood University and a master's in Administrative Studies at Southeastern Oklahoma State University.
Elvis Oben
Sustainability Manager
Mr. Oben oversees all planning, organizing, and monitoring activities needed to assure SGSOC compliance with best practices for sustainable oil palm production. Previously, he has served as Community Development Officer and Agricultural Field Technician with the Cameroon Institute of Agricultural Research for Development (IRAD) and Environmental Management Officer with Groundwork Thames Valley in the United Kingdom. He has also worked as a Project Officer with Skogsnicke and has contributed to research for the Swedish Society of Nature Conservation. Mr. Oben has a MSc in Natural Resource Management, Governance and Globalization from Stockholm University in Sweden and a B.Sc. in Botany from the University of Dschang in Cameroon.
Dennis Anye
Environmental Manager
Mr. Anye has over 12 years of experience in biodiversity policy and planning, ecology and conservation in Cameroon. At Herakles Farms, he oversees all aspects of environmental compliance. Previously, Mr. Anye worked as a Wildlife Biologist and Technical Advisor for BirdLife International, as well as a Research Officer for the Cameroon Institute of Agricultural Research for Development (IRAD). His work has included environmental monitoring for projects such as the Chad-Cameroon Exxon Mobile/Chevron /Petronas pipeline, the AES-Sonel Bekoko and Nkongsamba transmission line and the Sanaga gas project. Mr. Anye is an International Research Associate of the Center for Tropical Research, UCLA and San Francisco State University. He has a B.Sc. in zoology from the University Calabar, Nigeria and a M.Sc. in wildlife/ecology management from the University of Ibadan, Nigeria.
Daniel Agoons
Community Development Manager
Mr. Agoons oversees SGSOC's communication with and outreach to the communities in and around the concession. He has over 23 years of experience in social and environmental programs in Cameroon. Previous positions include Manager of Education and Environmental Communication for the WWF Korup Project, Executive President of Living Earth Cameroon, Communication and Information Officer at the World Agroforestry Center in Yaounde, Special Projects Coordinator for the US Embassy in Yaounde and Programme Manager for the Douala Neighborhood Redevelopment Programme. Mr. Agoons has studied with the University of Yaounde in Cameroon, ICCE in the United Kingdom, the University of Strathclyde in Scotland and the Foreign Service Institute in Washington.
Ransford Arthur
Estate Manager, Commercial
Mr. Arthur is an Agronomist with over 18 years of agricultural experience within Ghana, having previously served as the District/Deputy Regional Crop Services Officer. There, Mr. Ransford worked closely with the Crop Services Department, a division of the Ministry of Food & Agriculture, and oversaw tree crop nursery development and the Ghana Grains Development Project. At Herakles Farms, Mr. Arthur is in charge of all management and technical operations for SGSOG. Mr. Arthur graduated from the University of Reading, UK with a Masters of Science in Tropical Crop Production.
Yaw Ofori Lartey
Sustainability Manager
Mr. Lartey has Masters degrees in Forestry and Environmental Resource Management, and a Bachelors Degree in Agriculture. He currently oversees the implementation of best practices for sustainable palm oil production for SGSOG. His previous experience includes greenhouse gas and carbon accounting work with Michigan Technological University, as well as carbon dioxide analysis with U.S. Forest Service Free-Air Carbon Dioxide Enrichment (FACE). He has extensive experience in social and environmental management of West African agriculture projects, having previously worked with Samartex Timber & Plywood Company in Ghana, where he oversaw environmental permitting, promoted sustainable plantation development, rehabilitated degraded land, conducted training programs for managers and supervisors and coordinated collaboration and engagement with the local communities.